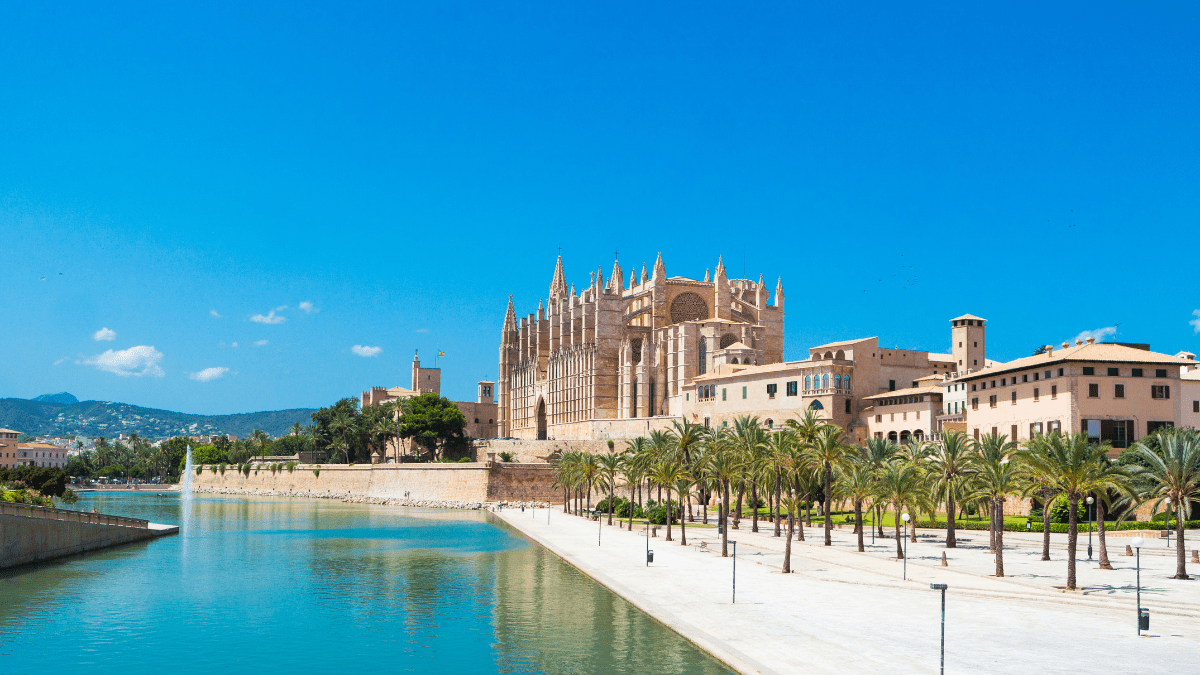 11 Sep

Exploring the magic of Paseo Marítimo: Leisure, gastronomy and fun with Mega Fun Games

Mallorca's Paseo Marítimo is much more than an avenue next to the sea. It is a part of the island that fuses history, culture, leisure and a wide gastronomic variety. With its breathtaking views of the Mediterranean and its lively atmosphere, this area is an epicenter of unforgettable experiences. And to top off this unique experience, the Mega Fun Games gaming rooms invite you to immerse yourself into the fun.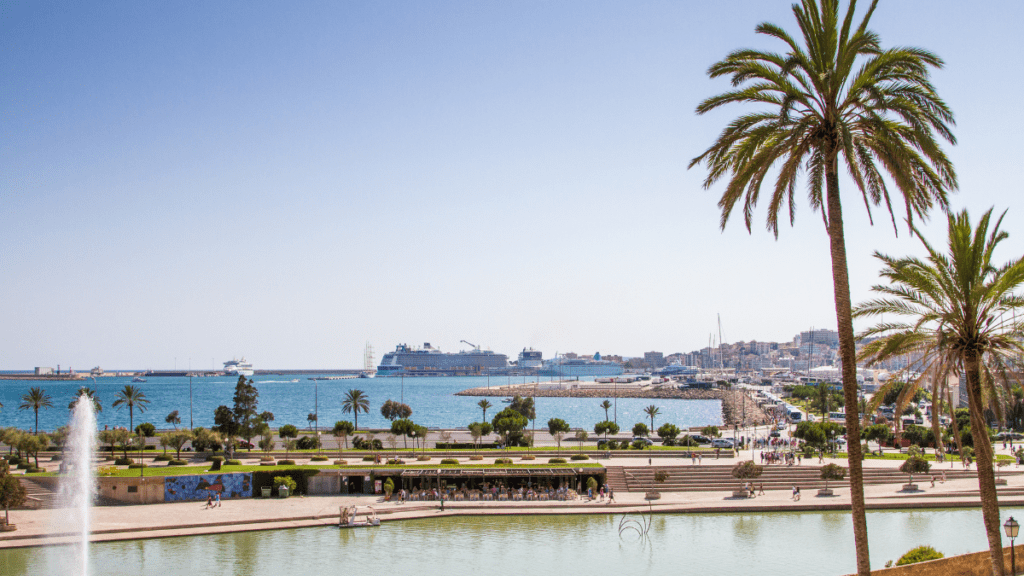 The delicious gastronomy of Paseo Marítimo
The Paseo Marítimo is a place where coastal beauty meets vibrant culture. With its numerous restaurants, bars and terraces overlooking the sea, this place offers a dining experience for every palate. The choices are as diverse as the island itself, from authentic local cuisine to international dishes.
This area is much more than just a stretch of coastline; it is a setting where the beauty of the sea merges with the cultural and culinary richness of Mallorca. In this vibrant spot, you will find a wide variety of options to delight your senses. From the freshness of the ocean to the diverse and vibrant culinary offerings, the Paseo Marítimo is a complete destination.
The restaurants lining the boardwalk offer an exceptional gastronomic spectacle. You'll find authentic corners of Mallorcan cuisine that capture the flavours and essences of the island in every bite. These establishments, with their rustic charm and cosy atmosphere, invite you to try traditional dishes such as "frito mallorquín", "tumbet" or "pamboli". Seafood is also the undisputed star of many menus, with locally caught fish transformed into authentic delicacies.
If you're looking for an international experience, the Paseo Marítimo also has a lot to offer. Restaurants serving Mediterranean, Italian, Japanese and other cuisines will satisfy any culinary craving. Attention to detail and creativity in presentation are evident in every dish, offering an unforgettable gastronomic experience.
Palma de Mallorca's Paseo Marítimo is a melting pot of gastronomic and entertainment experiences that combines the natural charm of the sea with the cultural richness of the island. Whatever your culinary or entertainment preferences are, this place invites you to discover its unique magic as you immerse yourself in the city's most vibrant seaside setting.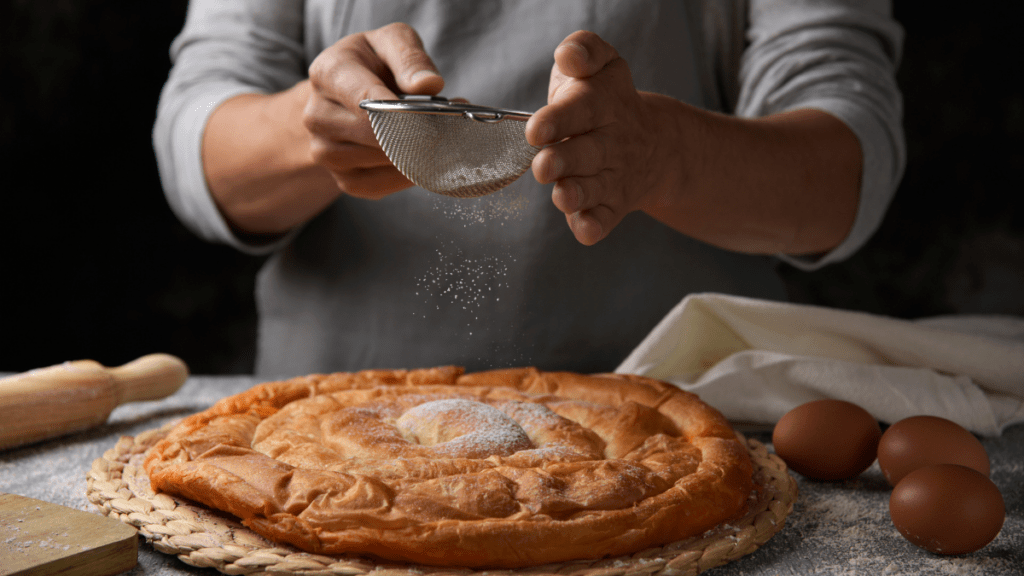 Activities on the Paseo Marítimo
Palma's Paseo Marítimo is an invitation to have fun and to relax in one of the most picturesque settings on the island. Beyond its impressive sea views, this place is an epicenter of activities that attract both locals and visitors. From sunrise to sunset, the Promenade offers a variety of experiences to suit all tastes.
Outdoor activities are a constant feature of this coastal space. Sports enthusiasts can enjoy the sea breeze while running, walking or cycling along the promenade. The terraces of bars and restaurants become a perfect meeting point to enjoy refreshing drinks and delicious dishes after a day of activities.
The marina is also a hotspot of activity. Boat trips and maritime excursions offer a unique perspective of Palma's coastline, and the opportunity to explore coves and beaches with crystal clear waters. In addition, the Paseo Marítimo is an enclave for those who love art and culture, with events and shows that vary throughout the year, such as open-air concerts and cultural activities.
The magic of the Paseo Marítimo doesn't fade as the sun goes down, as the area comes alive with nightlife options to suit all tastes. Lively bars and pubs offer a relaxed atmosphere in which to enjoy a drink while the sound of the sea in the background provides a unique serenity. For those looking for a more energetic experience, nightclubs and discos keep the party going until the early hours of the morning. From live music to international DJs, there is something for everyone in this vibrant corner of the city.
Palma's Paseo Marítimo is much more than just a place with beautiful views. It is a setting where fun, activity and relaxation converge in a unique environment. Whether exploring the coastline on a maritime excursion, delighting in the local gastronomy or enjoying the lively nightlife, this space offers an experience that satisfies the desires of all those who seek to live the essence of Mallorca.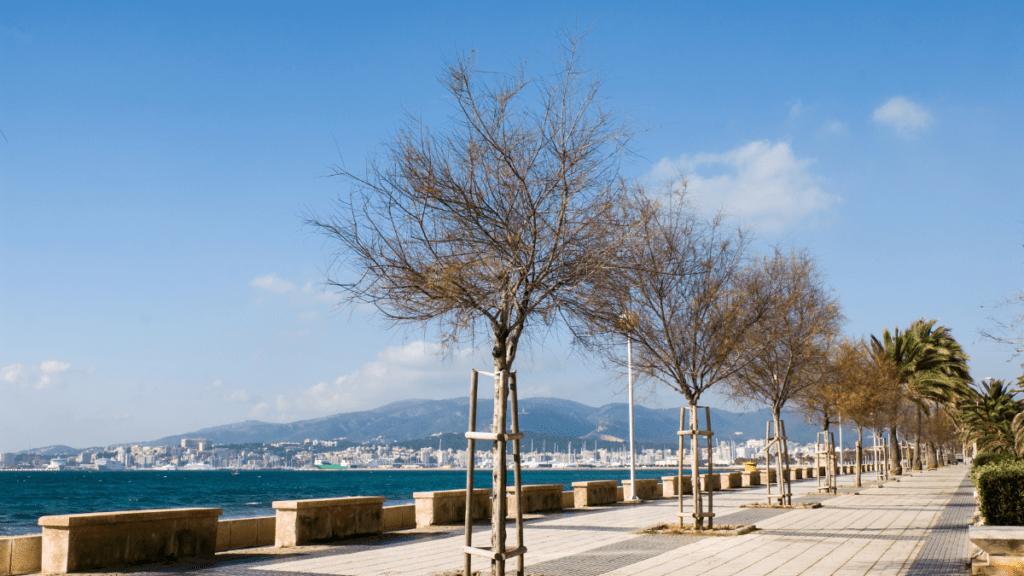 Immerse yourself in history and culture
The Paseo Marítimo area is also a testament to Mallorca's rich history. Landmarks such as the majestic Palma Cathedral, also known as La Seu, stand witness to centuries of history and Gothic architecture. This Gothic architectural marvel, built on the foundations of a former mosque, is a masterpiece that soars skyward with its distinctive pinnacles and rose windows. The interior is equally impressive, with its high naves and a high altar that captivates visitors with its splendour.
A short walk from the cathedral are the King's Gardens, a haven of peace and serenity in the heart of the city. These exquisitely landscaped gardens offer a haven of greenery and beauty, perfect for a leisurely stroll or to relax in a quiet, secluded setting.
The Almudaina, an imposing palace of Arab origin, stands close to the Cathedral. This historically significant building has witnessed countless events and has been home to various dynasties over the centuries. Its architecture combines Gothic, Renaissance and Arab elements, creating a setting that transports visitors back in time.
Finally, very close to the Paseo Marítimo is the Bellver Castle, with its peculiar circular design. Its location on a hill offers spectacular panoramic views of the city and the surrounding sea. Built in the 14th century, this castle has been a fortress, prison and royal residence at different times in Mallorca's history. Exploring its walls and enjoying its views is a unique experience that immerses you in the island's medieval past.
The Old Town: A journey into the past
As we enter the Old Town, we discover cobbled streets that tell stories of times gone by. This area becomes a charming labyrinth with numerous art galleries, boutiques and picturesque corners. Every corner reveals details that speak of Mallorca's rich culture and love of art. The cobbled streets of this historic area are much more than just thoroughfares; they are paths laden with the memory of past generations. The Old Town of Palma de Mallorca is a real treasure, where the traces of the past blend with the present in a unique way.
Every step through its narrow, cobbled streets immerses us in the history that has left its mark on the architecture, buildings and squares. From the imposing portals of the old mansions to the centuries-old churches, every corner breathes an atmosphere of another time.
One of the most captivating aspects of the Old Town is its strong link to art and culture. The art galleries that dot its streets offer a window into the creativity of local and international artists. The workshops of artists and craftsmen bring a touch of authenticity to the area, where art becomes a means of keeping the essence of the island alive.
A curiosity that captivates visitors in the Old Town is the traditional old doors, which are often decorated with beautiful ceramic tiles. Each tile tells a story, from family portraits to scenes from everyday life, offering a glimpse into the life of times gone by.
Palma de Mallorca's Old Town is a corner where the past meets the present in a unique way. With its evocative architecture, its connection to art and its historic atmosphere, this area invites us to explore and discover the cultural and artistic essence of the island in an environment that remains true to its historic roots.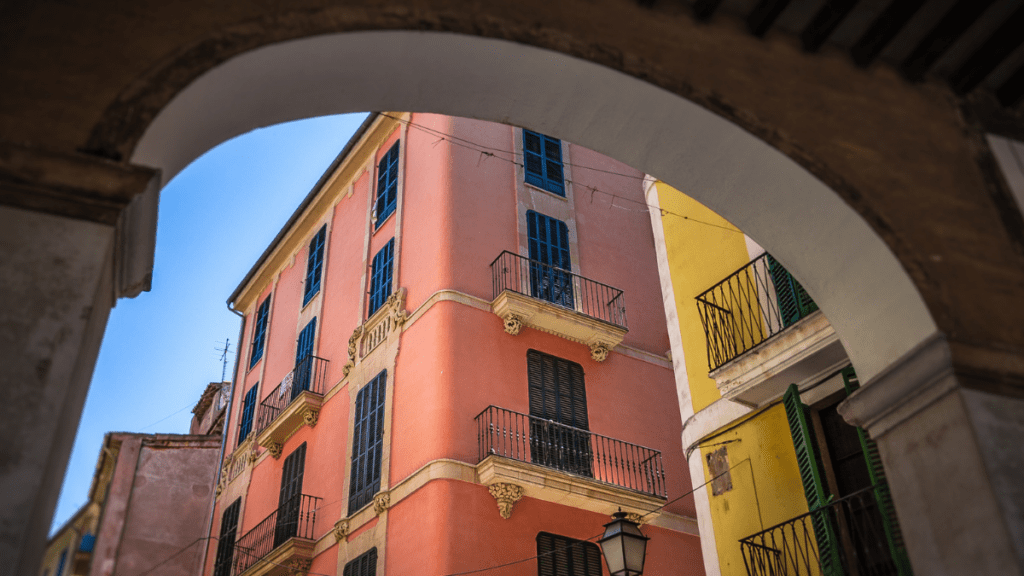 The marina the harbour and the cruise ships
Palma de Mallorca's Paseo Marítimo is a captivating enclave where coastal beauty merges with the city's vibrant culture. One of the highlights of this area is its lively marina and harbour, which welcomes a varied fleet of boats and cruise ships. From majestic yachts to imposing sailing ships, the sight of the different types of vessels in the harbour is a spectacle in itself. In this picturesque setting, visitors can stroll along the quayside and admire the elegance of the moored ships, dreaming of adventures on the high seas. In addition, the port is the arrival and departure point for a number of cruise ships that choose Mallorca as their destination, bringing with them a diversity of cultures and an air of exciting exploration. The marina and port offer not only a stunning visual experience, but also a place where the island's maritime history blends with the modernity and splendour of coastal life.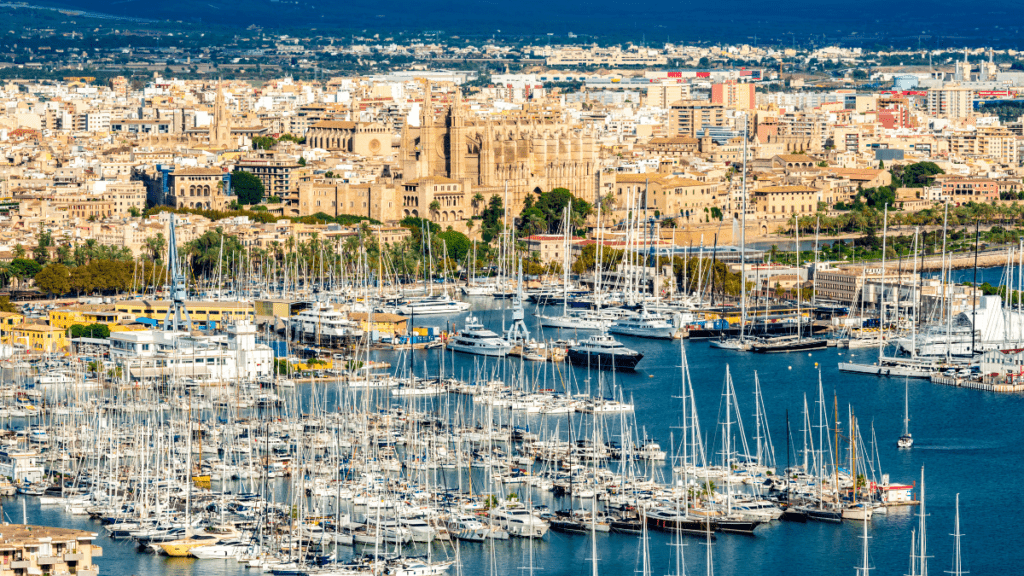 Unlimited fun at Mega Fun Games arcades
Adding an exciting touch to all the experiences we have shared with you, we cannot forget our two lounges in the Paseo Marítimo area, which stand as the perfect destinations for entertainment. With strategic locations on the Paseo Marítimo, our lounges are an invitation to fun and excitement.
Within the exciting universe of entertainment we offer at Mega Fun Games, our lounges stand out as true havens of fun and adrenaline. Beyond the vibrant slot machines that decorate our rooms, we also invite you to immerse yourself in the thrill of roulette, taking you straight to the heart of "CASINO FEELING". Our roulette wheels, with their distinctive spin and strategic betting, add a unique dimension to the gaming experience in our rooms. We transport you to a world where luck and strategy come together to bring you moments of unparalleled excitement.
For passengers arriving to our beautiful island aboard cruise ships, Mega Fun Games welcomes you with a unique and exciting entertainment experience. Our games lounges, strategically located close to the port, are ideal destinations for those looking for a dose of fun on land. After exploring the island's charms, our lounges offer a space to relax and try your luck at a variety of exciting slot machines and roulette wheels, all designed to provide that touch of excitement and thrills that Mega Fun Games is known for. Whether you want to experience the adrenaline rush of a jackpot or simply enjoy "CASINO FEELING", our rooms are on hand to make your visit to Mallorca even more unforgettable – come and join us for an unparalleled entertainment adventure right by the harbour!
At Mega Fun Games, not only will you find machines and roulette wheels, but you will experience the authentic casino atmosphere in each of our rooms, where anticipation and excitement merge to create an experience you will never forget. Do you dare to experience "CASINO FEELING" in its purest form?
You can find the two Mega Fun Games lounges on the Paseo Marítim at the following addresses:
Mega Fun Games Port Marítim
Avda. Gabriel Roca, 2, Paseo Marítimo, 07014 Palma de Mallorca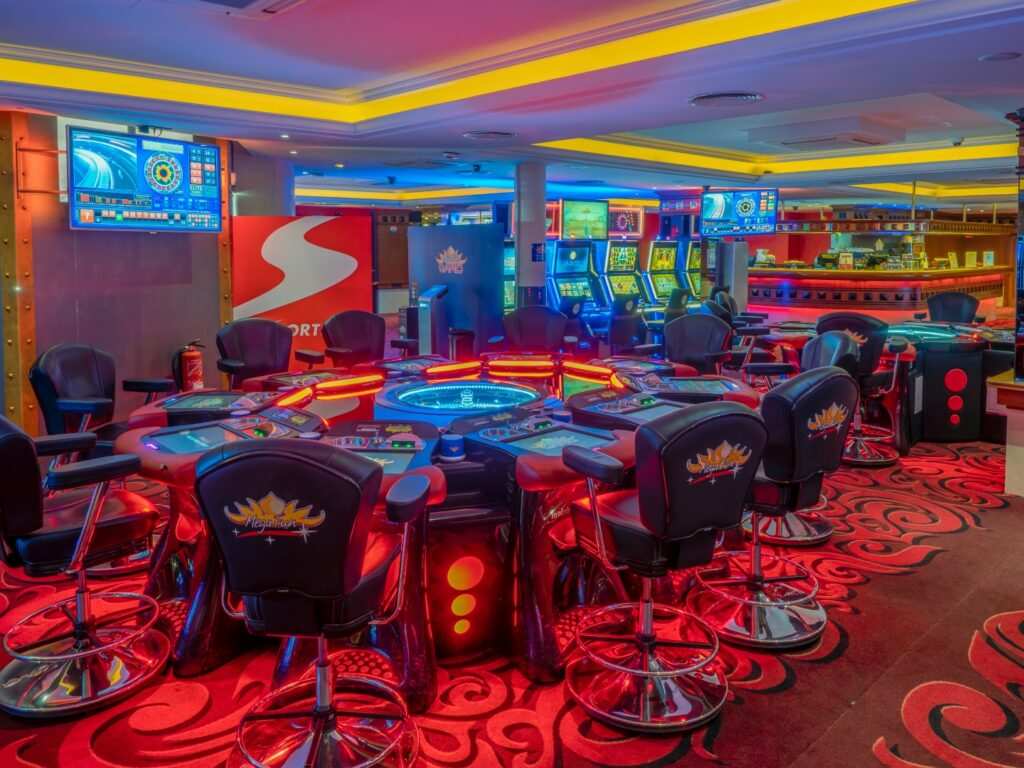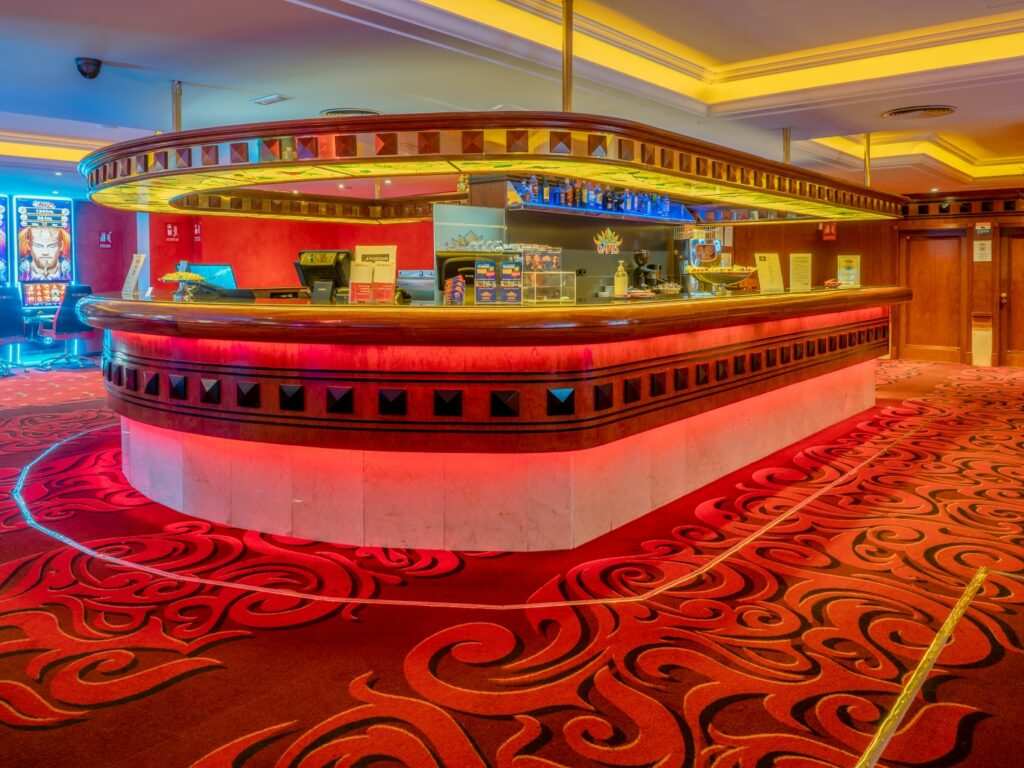 Mega Fun Games Paseo Marítimo
c/. d'Aigua Dolça, 1, Paseo Marítimo, 07014 Palma de Mallorca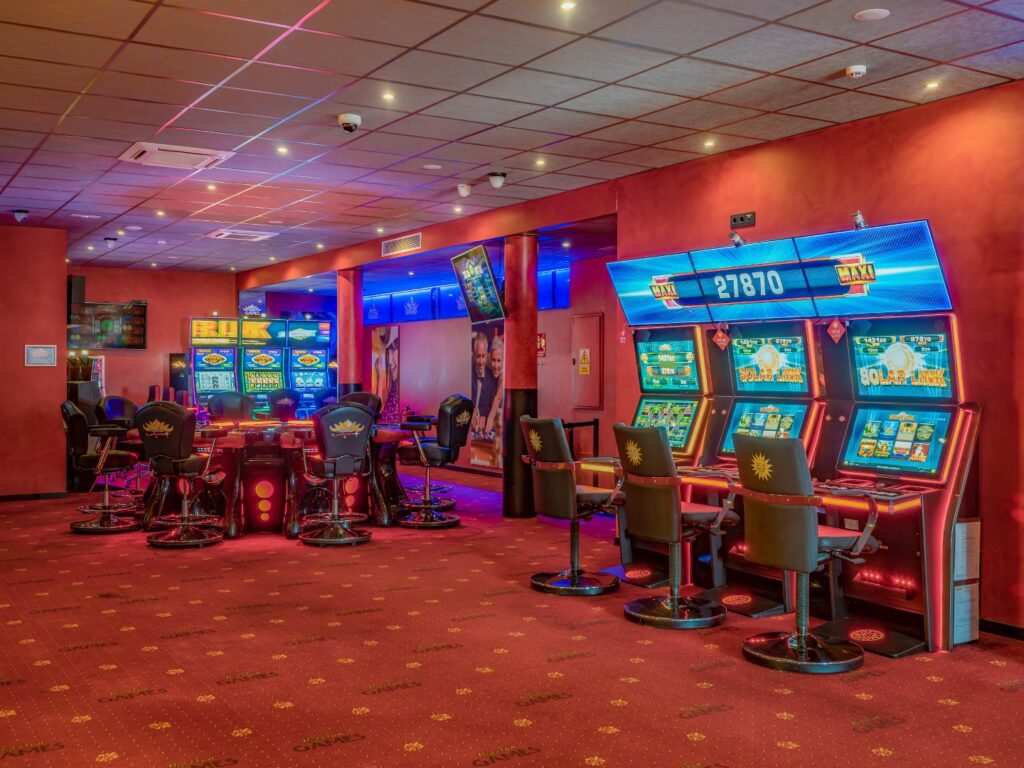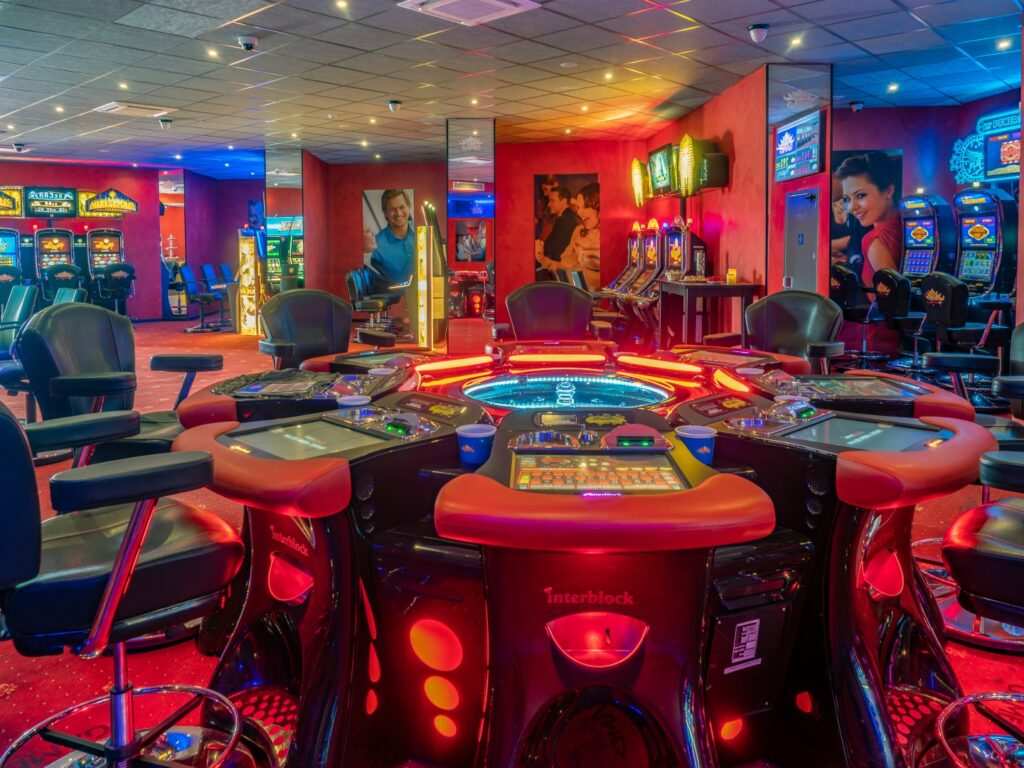 Our two halls are two destinations that will immerse you in a world of entertainment and fun like no other. Are you ready to immerse yourself in the excitement? We are waiting for you at Mega Fun Games for an experience you won't forget!
The best slot machines are waiting for you
At the heart of Mega Fun Games rooms, you'll find a carefully curated selection of the best and newest slot machines on the market. From classic fruit symbols to exciting themes, each machine is designed to take the thrill of gambling to another level. The immersive graphics and captivating mechanics will make every spin a thrilling experience full of possibilities.
Your opinion counts: Exclusivity in our development
At Mega Fun Games, we pride ourselves on offering a unique gaming experience. 
Did you know that we have machines that have not yet been released to the market? We want our customers to be part of our development process by being the first to try these innovative machines. Your feedback is essential to us, and we would love for you to share your impressions and be part of the evolution of our games.
The perfect place for everyone
Our lounges have been designed with the comfort and enjoyment of our guests in mind. In addition to the variety of entertainment, we offer personalised attention and a welcoming atmosphere. Free parking is available in most of our lounges, an additional convenience we provide to make your experience even more enjoyable.
24 Hours of unlimited fun
At Mega Fun Games, we know that the thrill of the game knows no timetable. That's why our rooms are open 24 hours a day, every day of the week. Whether you want to play at dawn or in the middle of the night, we are here to provide you with an entertainment experience with no time restrictions – fun is guaranteed any time you choose to visit us!
Unrivalled prizes and jackpots
If you are looking for thrills and rewards, Mega Fun Games is your ideal destination. Our rooms are known throughout the island for awarding the highest jackpots and prizes of any gaming room in Mallorca. Every spin of the slot machines is an exciting opportunity to take home prizes that will exceed your expectations. At Mega Fun Games, every visit is a chance to win great rewards.
Explore Paseo Marítimo with Mega Fun Games
In short, the Paseo Marítimo is a window to the essence of Mallorca. A combination of history, culture, leisure and gastronomy that promises an unforgettable experience. And with the Mega Fun Games lounges as your fun companions, every visit becomes an exciting chapter in your island story.
Follow us on Social Networks so you don't miss a thing
At Mega Fun Games, we are committed to keeping you informed about all the exciting news, promotions and events we have in store for you. Don't be left out of the fun! 
Follow us on our social media channels to keep up to date with everything that's happening in our game rooms on the Paseo Marítimo and all over the island of Mallorca. Stay connected with us on Facebook and Instagram, where we'll share the latest news and invite you to join our exciting community of players. 
We look forward to seeing you at Mega Fun Games for moments of unparalleled entertainment and fun!